Unified Endpoint Management
SOLUTIONS
Unified EndPoint Management from baramundi
Firstly, and most importantly you do not need to reinstall your end devices to start using the baramundi Management Suite!
Secondly, as a German company, baramundi is not required to comply with laws like the US Patriot Act, meaning that no customer data is forwarded to government agencies. If you want to know more about the implications of the US Patriot's Act and how that affects your GDPR adherence then contact me directly.
Whether PC, notebook, server, smartphone or tablet, the baramundi Management Suite helps you manage every device on your company network. The solution can be flexibly integrated into your existing IT environment.
baramundi Management Suite is a modular, powerful and flexible endpoint management software. You can rely on it to perform time-consuming routine jobs, allowing you to manage your IT landscape with ease, no matter whether in a small company´s or a global group´s network. baramundi Management Suite is used all over the world and manages networks from 100 to over 10,000 end devices.
baramundi Management Suite covers the entire lifecycle of PCs, servers, mobile device, Macs and virtual environments from the automated first installation, inventory, maintenance, and updates, through to the secure deletion of data at the end of the lifecycle. Basic endpoint management functions are also available for devices with the Apple macOS operating system.
Available Modules: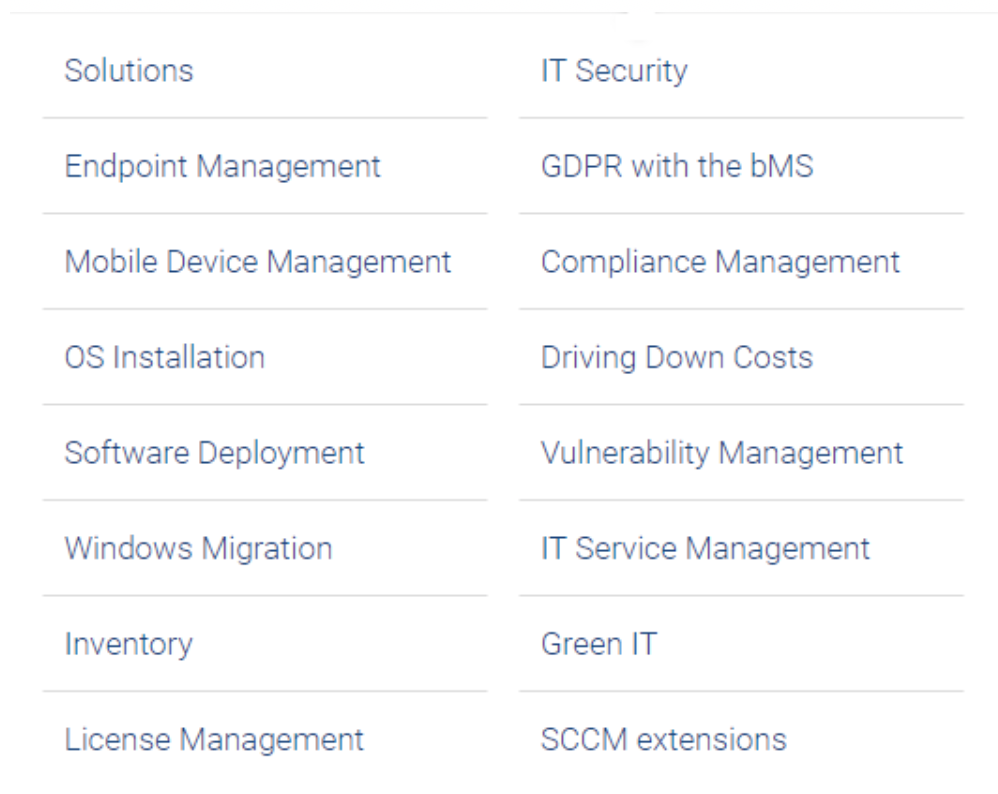 Benefits of endpoint management with baramundi
Automation of time-consuming routine tasks
Fewer errors due to standardized processes
Cost-efficient IT management through automation
Intuitive user interface for straightforward operation
Overview of the status of the entire network
Compliance with German and European data protection rules
Self-service tasks for users to reduce the workload of IT employees
Holistic approach for IT Lifecycle Management
Role-based security model
Users benefit from
  Cutting-edge management solutions for Windows end devices and servers as well as mobile devices of the three most common platforms of a software solution
  Integrated management of end devices with macOS
  A suite of modules carefully tailored to each other, for comprehensive IT management
  Easy to expand, highly scalable, and with flexible licensing options
  A wide variety of interfaces and 3rd party connections
  Maximum installation quality and reduced support requirements
  Constant development and adaptation using the latest technologies
  Outstanding price-performance ratio
What makes baramundi special?
  Years of experience in endpoint management and software deployment
  Made in Germany
  Needs-based training courses and workshops
  A financially sound, independent and constantly growing company
  High customer and employee satisfaction
  Gold-certified Microsoft partner
  As a German company, baramundi is not required to comply with laws like the US Patriot Act, meaning that no customer data is forwarded to government agencies