Managed SOC, SIEM, IDS, DLP, Threat Hunting and Detection
Services
Managed security service delivering full end to end detection, remediation and protection against external and internal threats

UK Designed - UK Owned - Located in London - Global Coverage
24x7 security monitoring with one installation, one dashboard and without the need for highly skilled cyber security analysts.
  SIEM
  IDS
  Anti-Malware Gateway
  EndPoint Security
  Application and OS Control
  Remote Management
  PCI-DSS Compliance
  Cyber Essentials
  BitLocker Management
  GDPR Tools
30,000 Machines monitored
3,000 Million events processed daily
Are you looking for a SOC, SIEM, Threat Hunting and Detection or DLP Solution? Perhaps you already have a solution in place and are struggling with alerts and notifications. One common factor is the huge amount of 'noise' created in their dashboards making it difficult to see the wood for the trees and weed out the false positives. And then you need at least two highly skilled cyber security professionals to understand, prioritise and remediate. Well not anymore.
What is ThreatSpike Wire?
Monitoring software that can be deployed on the network as well as servers and desktops to get instant visibility into user and machine behaviour. 
A cloud service which provides dashboards, reporting and analytics without having to worry about on-site retention, disaster recovery, scalability, and capital expenditure. 
24/7 monitoring for threats and vulnerabilities by our expert team of penetration testers, security analysts and software developers. 
A range of protective security controls for proactive and reactive blocking of threats. 
A per-seat pricing model which covers all features as well as monitoring by our specialist team.
We offer the first ever fully transparent, predictable pricing model for a managed security service. We do not rely on 3rd parties and our technology is developed entirely in-house, allowing us to stay agile and avoid passing on unnecessary costs to our customers.
£100 

per year per device - ALL the features
Security Monitoring
Red Team/Threat hunting
24/7 Incident Notification
Unlimited Reports
Unlimited Remote Support
On-Site Support
Prioritised Feature Requests
Average number of issues discovered during trials
Complete the form below to request a demonstration, free 14 day trial and/or pricing
"ThreatSpike offers a strong value proposition that ties into our business needs. Our experience with ThreatSpike is extremely positive. Like us, it is a dynamic, entrepreneurial organisation and quick to respond to our changing requirements"
Cybersecurity and Compliance Manager at Inchcape Shipping Services
"ThreatSpike analysts provide us with the assurance that our network and customer data is constantly protected and that when a threat is detected, that it is dealt with quickly"
Group IT Director at HSS Hire
Extensive Set of Security Capabilities and Functionality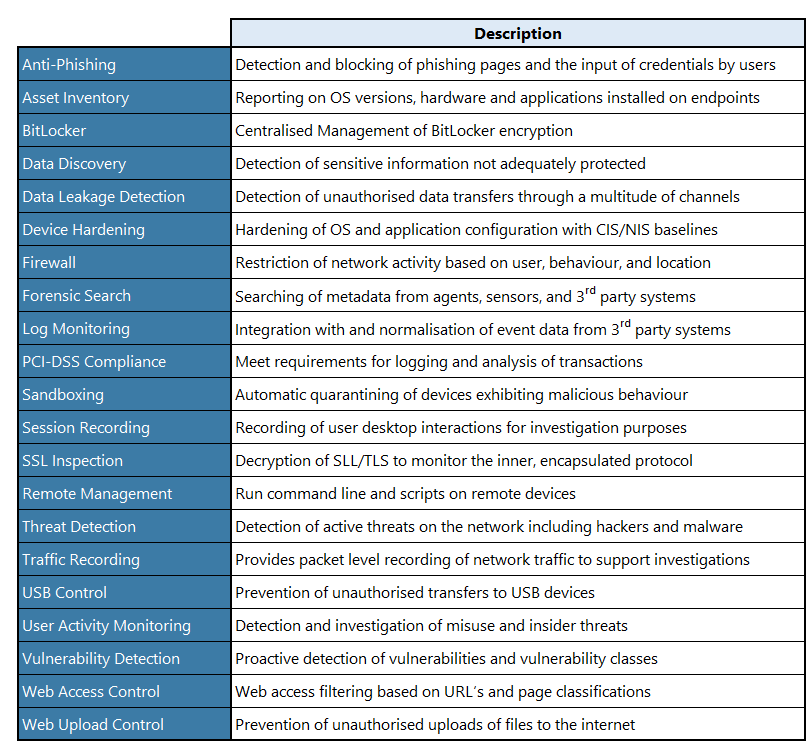 How Does ThreatSpike Compare?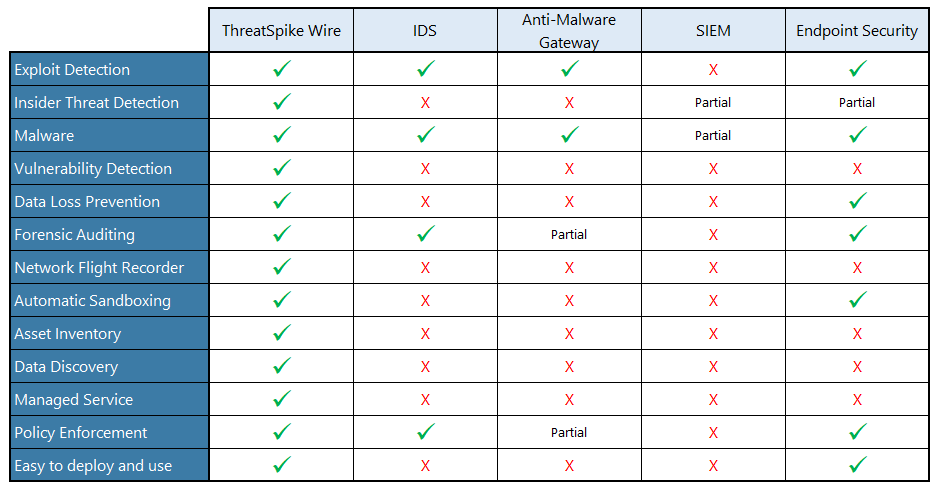 GDPR Coverage